Went to TMC yesterday for the OSCAR test.
Had everything planned out, after the oscar test, we shall go shopping or maybe some movies. But baby was pretty stubborn and refused to lie on its back no matter how much we coax him.
After the 3rd time, mama was a little frustrated aredi cos mama wants to go shopping! I bet the radiographers were thinking why my bb so naughty, dont want to cooperate hee.
After that, Angelica came. She is a very patient and cute radiographer. She joked with us during the process and she took the longest time with us trying to get the baby's measurements in the best position and she helped to take the pics of baby's little hands as well.
So after everything ended, it's already 1.20pm. We went for lunch and short shopping before returning back to Dr Chan for consultation.
Dr Chan says everything is alright and I dont have to worry so much.
So relieved. I was so worried during the scan why my baby refused to turn and just lie there, and keep jumping =__=
She said that you are a tall baby. Slightly taller than the average with long hands and legs that's why the pictures are so clear.
will love you all the same whether you are tall or not. hee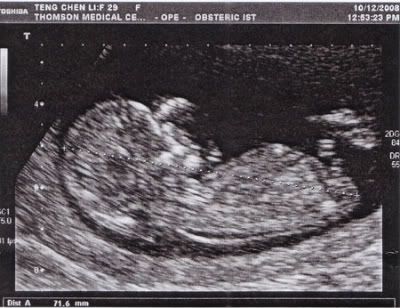 little hands waving...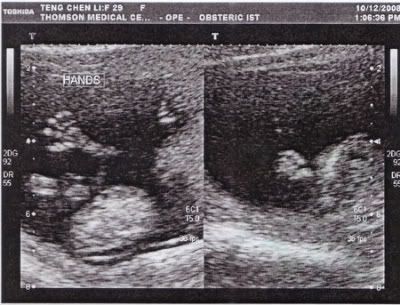 bottom of baby's feet