Yay! Finally shopping can officially start!
Mummy's weight this month is 49.7kg. Just 1 kg extra. Wonder if I need to put on more...
But you are doing fine!
You weigh 350 grams and is slightly above the normal average weight of 20th week babies. *grins*
So what happened at the scan today?
You were really active. *thanks to the orange juice*
You kicked Mummy real hard and flexed your muscles like Hercules
You like to sleep on my right side of my tummy
Your feet is 3.5cm!
You showed us how to suck your fingers
You showed us your armpit =_=
and not to forget...your ku ku jiao too! whahahha

your lovely feet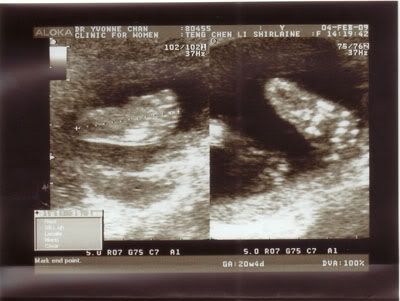 i am muscle man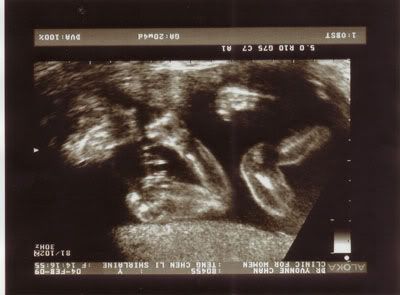 it's a boy!
another one from your bottom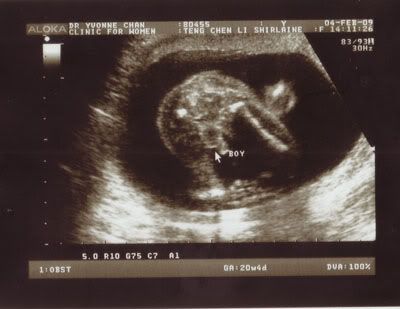 you playfully sucking your fingers...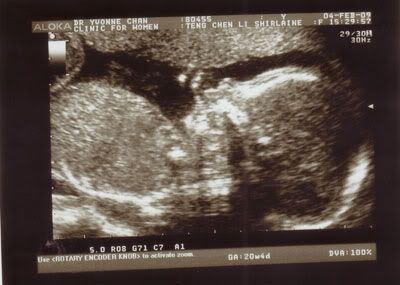 I'm really happy that you are making yourself comfortable inside my tum tum! Told Ah Ma and Po Po about you and they were elated! Everybody was laughing at the amazingly clear Ultrasound Scans from Dr Chan.
Dr Chan is really a very detailed doctor. She was very patient in explaining and checking the organs again and again making sure they are alright. And she even explained to us, how it will look like if there's an abnormality.
Next appointment to see you is Feb 28th! About 3 weeks away.. in the meantime, mummy and daddy will miss you..
Lots and Lots of Muakz.