Happy Birthday to ME
Happy Birthday to ME
Happy Birthday to Mummy
Happy Birthday to ME!
Okay, this is the day when Mummy turns 30! Mummy was once a little baby like you too.
Ordered cupcakes over last weekend to celebrate! Not really a celebration but Mummy adores cupcakes so ordered from Juzmycakes.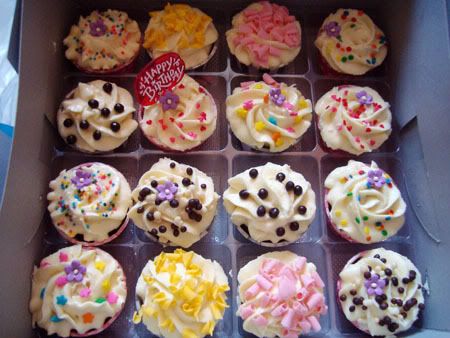 The cupcakes are super delicious! especially the chocolate chip ones and i love the cream cheeze frosting. Cannot get enough of them. My whole family commented that it's good. and guess what, i ate most of the cuppies cos they know I love them. Out of 16 cuppies, I ate about hmmmm 11. wahhahahah =p I need those calories HORKAY
Went out for a simple dinner at
Dian Xiao Er
and more shopping for Skyler.
Bought a latex infant pillow and a sarong (FINALLY CAVED IN), cannot tahan the constant carrying liao. Very siong!